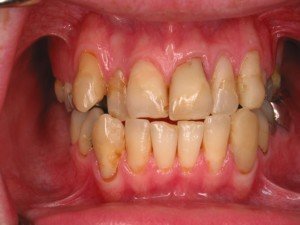 The most embarrassing problem mom's and women face when it comes to their teeth … the most contemporary and affordable solutions to those problems and a cost free way to discover if any of these solutions can work for them.
Problem #1:
Crooked, oddly shaped, small holes, chipped teeth or Inappropriate tooth size and The Gold-Standard Solutions that will get heads turning your way to turning your teeth from a source of embarrassment to a source of Pride and Joy!
Solution #1: Dental Veneers
One of the easiest ways to treat teeth that are too small, too big, or have uneven surfaces is by placing veneers over the tooth or
teeth. It is very common for people to have imperfect teeth, either oddly shaped teeth, chipped teeth, crooked teeth, teeth with small holes
in them, or an inappropriate sized tooth or teeth that have an odd appearance.
Veneers, porcelain or plastic, are placed over the front teeth to change color and or shape of the teeth. Veneers solve such
irregularities and create a durable and pleasing smile.
Solution #2: Dental Bonding
By using dental composite resin bonding your dentist can restore chipped or broken teeth, fill in gaps and reshape or recolor your smile. Bonding is a composite resin filling placed in the back teeth as well as the front teeth. Composites are the solution for restoring decayed teeth, making cosmetic improvements and even changing the color of your teeth or the reshaping of teeth.
Bonding will lighten any stains you may have, close up minor gaps and can be used to correct crooked teeth. Basically, bonding will cover any natural flaws applying a thin coating of a plastic material on the front surface of your teeth.
The traditional silver fillings last about seven years, these composites should last about seven to eleven years.
Solution #3: Contouring & Reshaping
For individuals who have chipped, cracked or irregularly shaped teeth, dental contouring and reshaping can be just the ticket for a more beautiful smile. Tooth reshaping, or contouring, is one of few instant treatments now available in cosmetic dentistry. Dental reshaping and contouring is a procedure to correct crooked teeth, chipped teeth, cracked teeth or even overlapping teeth in just one session.
If you want your teeth to appear less crowded, lack chips and fractures, have decreased overlaps or to be without pits or grooves in the enamel, this procedure should be discussed with your cosmetic dentist. With a little dental contouring, you can make a huge difference in the way you feel about your smile. Good cosmetic dentistry can give you a smile that is the envy of others.
The good news is that tooth contouring by a cosmetic dentist does require that you have normal, healthy teeth. Tooth reshaping, or tooth sculpting, is a safe and conservative way to improve your smile. Teeth may become weaker if large amounts of enamel are removed, tooth reshaping should be limited to minor changes or combined with veneers or bonding for the best results.
So as you can see, there's virtually NO embarrassing problem you could have that can't be easily and inexpensively solved. If you're tired of being embarrassed by your smile and you want the dazzling, jaw dropping, smile you should have been born with the first step is…
Call (760) 340-1030 and schedule your FREE Smile Makeover Consultation today.